October 8, 2012
5000 users, starting iOS app, future plans, hopes & tears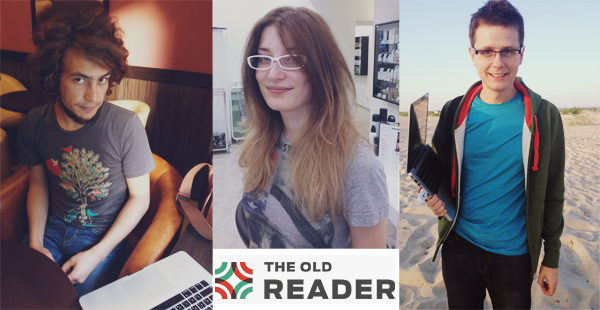 This is amazing. Incredible. Outstanding. And absolutely unexpected. We reached our personal milestone this morning. In early June Dmitry made a bet that he would start making an iOS app once The Old Reader hits 5000 registrations, and the team gladly accepted this challenge. We have not expected this to happen until early 2013 but in these last five days ~1900 new users registered. These are mostly some awesome people from Brazil who have found us and spread the word in Twitter with astonishing passion and lots of sincerity. 
We are sorry for some technical issues you might have experienced recently; importing your feeds should work much better now and we are trying various things to make it work perfectly. And thank you all for your patience, words can't describe how important and touching it was to receive reassuring replies like "Ok, I can wait :)".
So, 5000.
What does this mean for us?
The Old Reader is not even half-finished. We have lots of different tasks to do and the list is growing on a daily basis. All Dmitry talks about these days is different optimizations, while Anton silently opens terminal and starts typing, while Elena is trying to land us a sponsorship or a partnership. And, of course, we are looking forward to bookmarklet, mass-editing, sorting, and lots of other features you requested.
What does it mean for you?
The Old Reader is not even half-finished. But some day it will be.
What does it mean for all of us? 
As we promised earlier, along with other tasks we are going to start working on an iOS app. Yes, it's a big deal for us.
Last month was not the best for our team in terms of our project: one of us changed jobs, some of us changed countries and all three of us are now unable to spend evenings and weekends coding, tweaking, fixing, writing emails, resolving issues, and generally having the best experience that friends can have: creating something together. But we will continue doing everything we can to bring The Old Reader to the new level.
We thank all our users for your interest, kind words, critique, suggestions, patience, and new challenges you give us. And thanks to our old and new friends for using The Old Reader to read, curate, and share the best content ever. Keep on going and we will keep on working. 
P.S. We knew that Elena can cry while reading emails and replies in Twitter, we witnessed her doing that multiple times during last few days, but apparently she is also able to write a post and cry at the same time. Hardcore multitasking.
plasticdreams reblogged this from theoldreader